Hey Deanz Greenz fam! Ready for another week of green delights? We've got some exciting additions to share with you. This week's star blooms include Ice Cream Cake from Herbal Dynamics, Garlic Treats from Urban Canna, and Melted Strawberries by Bonfire Farms.
In the edible realm, we've restocked some favorites like Grön Mega Pearls, Drops gummies, and Mule gummies – the whole gang's here.
For an elevated vaping experience, check out the new 1g Cured Resin carts from Gem Carts. And if you're into dabs, don't miss the deliciousness of the new 1g Cured Resin dabs from Red Eye Extracts.
Now, mark your calendars for special events: Lil' Eazy-E is doing a Meet n' Greet this Saturday from Noon-2 PM at Deanz Greenz on Sandy. Plus, get ready for a Spooky Edibles Spectacular with 30% OFF Edibles from 10/30-10/31st. And don't miss the VIVA Vendor Day showcasing their THCV products.
Exciting news on the horizon: Starting October 23rd, we're extending store hours for Sandy and Foster. Get ready for more convenience!
Mon – Thurs 👉 8:00AM – 9PM
Friday 👉 8:00AM – 9:55PM
Saturday 👉 9:00AM – 9:55PM
Sunday 👉 9:00AM – 9:00PM
Come on down to Deanz Greenz and immerse yourself in these exciting additions. Your harvest season just got a whole lot greener! 🍂
Lil Eazy-E this Saturday at Sandy!
Meet hip-hop royalty at Deanz Greenz! Lil' Eazy-E is in the house this Saturday from Noon-2 PM at our Sandy location.
Don't miss your chance to vibe with a legend. 🎤🌿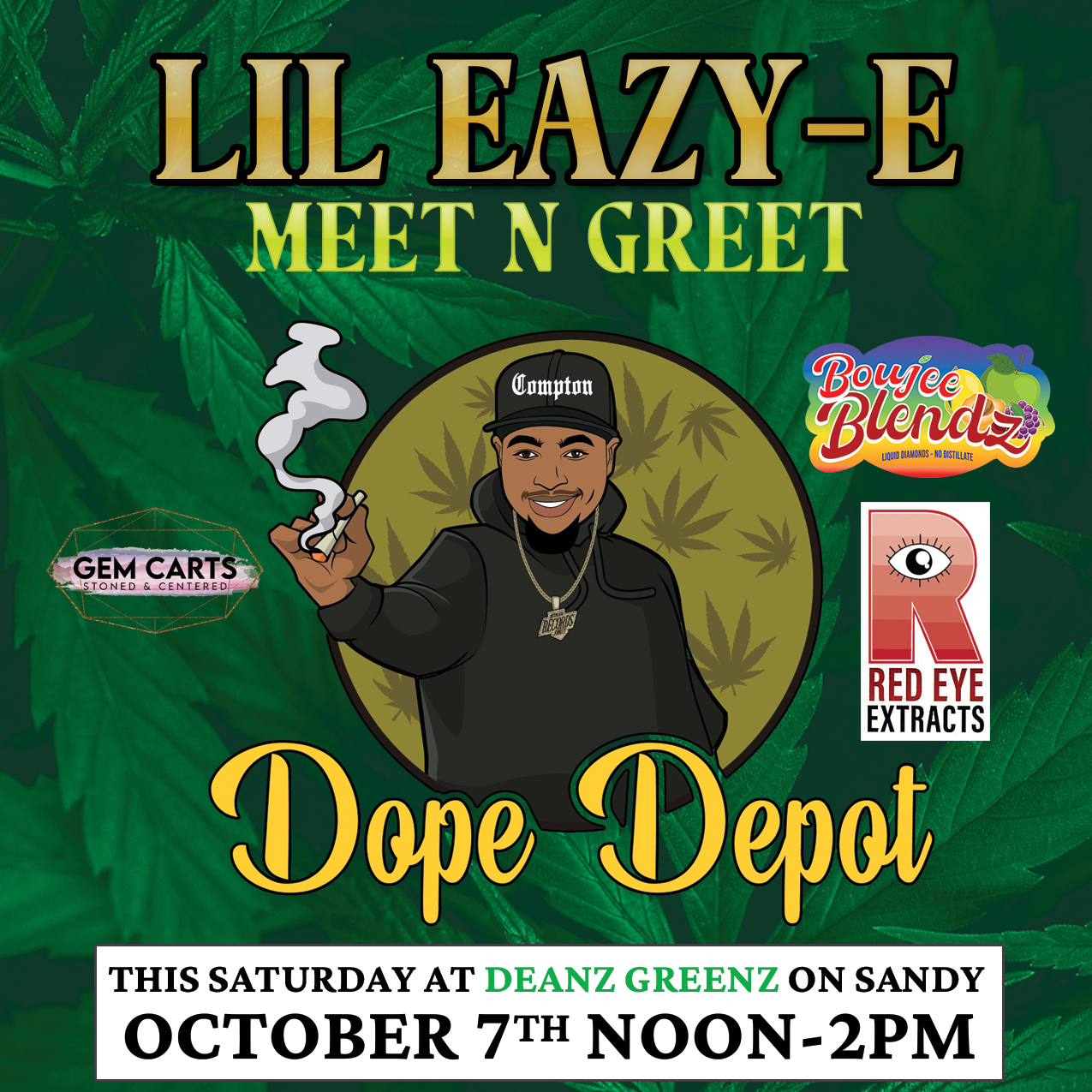 Vendor Days Ahead!
Embark on a journey with VIVA at Deanz Greenz! Explore the cutting-edge world of THCV products during our special Vendor Day. Elevate your experience and discover a new dimension of cannabis delights. 🚀🌿30% OFF VIVA while they are in store!

VIVA THCV :
Foster : Thursday October 5th 7PM-9PM
Division : Thursday October 12th 7PM-9PM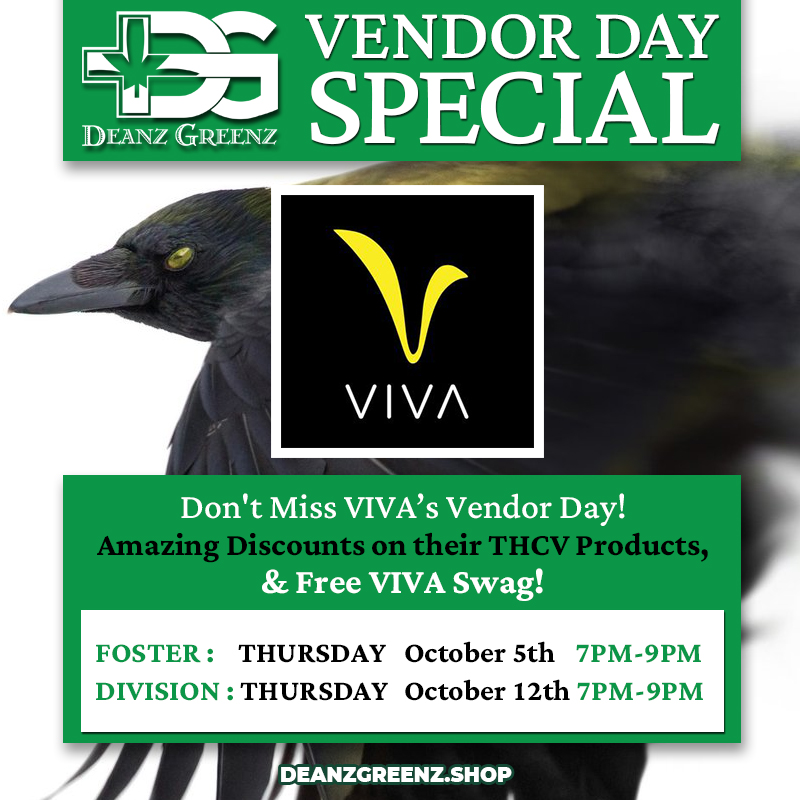 New Products and Restocks
Edibles :
Foster
[$6] Gron 100mg – Passion Orange Guava Mega Pearl
[$6] Gron Mega Pearl – Cherry Limeade
[$6] Gron Mega Pearl – Lemonade
[$6] Gron Mega Pearl – Tropical Twist
[$9] Gron 100mg – 1:1 Blackberry Mega Pearl -CBN/THC
[$8] Drops – Lime Single 100mg
[$8] Drops – Orange Single 100mg
Division
[$6] Mule 100mg – Twisted Citrus Kicker
[$6] Mule 100mg – Kiwi Kicker
[$6] Mule 100mg – Sour Grape Kicker
[$6] Mule 100mg – Pineapple Kicker
$12] Mule 100mg – Strawberry Lemonade 1:1:1:1 Kicker
Carts :
Foster
[$36] NW Kind – GMO Live Resin Cart
[$29] NW Kind – Hawaiian Haze x Blackberry Pomegranate 1:1 Cured Resin Cart
[$17] Boujee Blendz – Grape 1g Flavored Liquid Diamond Cartridge
[$17] Boujee Blendz – Tutti Frutti 1g Flavored Liquid Diamond Cartridge
[$17] Boujee Blendz – Blueberry 1g Flavored Liquid Diamond Cartridge
[$17] Boujee Blendz – Apricot 1g Flavored Liquid Diamond Cartridge
[$48] Higher Cultures – Benny Blanco HTE 1g Cartridge
[$48] Higher Cultures – Nudder Budder HTE 1g Cartridge
[$48] Higher Cultures – Mystic Magic CBD Live Resin 1g Cartridge
Sandy
[$17] Boujee Blendz – Tutti Frutti 1g Flavored Liquid Diamond Cartridge
[$17] Boujee Blendz – Blueberry 1g Flavored Liquid Diamond Cartridge
[$20] Gem Carts – Miss Citrus Pepper 1g Cured Resin Cartridge
[$20] Gem Carts – Tropical Mimosa 1g Cured Resin Cartridge
[$20] Gem Carts – Biscotti Pie 1g Cured Resin Cartridge
[$20] Gem Carts – Sherb Crasher 1g Cured Resin Cartridge
[$20] Gem Carts – Lemimosa 1g Cured Resin Cartridge
Dabs :
Sandy
[$12] Red Eye – Grease Monkey 1g Cured Resin
[$12] Red Eye – Mac #1 1g Cured Resin
[$12] Red Eye – Snow Magoo 1g Cured Resin
New Flower : Sandy
Alpaca [Diamond] Deep Creek Gardens
Apple Slapz [Platinum] MillerVille Farms
Caribbean Breeze [Platinum] Northwest Botanica
Climax [Platinum] MillerVille Farms
Da Funk [Platinum] Bonfire Farms
Garlic Treats [Diamond] Urban Canna
Grandpa Larry [Platinum] PDX ORGANICS
Ice Cream Cake [Diamond] Herbal Dynamics
Melted Strawberries [Platinum] Bonfire Farms
Sour Patch Kids [Gold] MillerVille Farms
[$80] 14g PrePack – Da Funk
[$80] 14g PrePack – Gush Mints x Black Cherry Punch
[$80] 14g PrePack – Melted Strawberries
New Flower : Foster
Climax [Platinum] MillerVille Farms
Da Funk [Platinum] Bonfire Farms
Garlic Treats [Diamond] Urban Canna
Grandpa Larry [Platinum] PDX ORGANICS
Ice Cream Cake [Diamond] Herbal Dynamics
Melted Strawberries [Platinum] Bonfire Farms
Mac V2 [Diamond] Coastal Cultivation
Sour Patch Kids [Gold] MillerVille Farms
[$12.50] 14g PrePack – Blue Magoo
[$12.50] 14g PrePack – Moby Dick (SH)
[$12.50] 14g PrePack – Purple Punch (IH)
[$12.50] 28g Shake PrePack – Dough Goat
[$12.50] 28g Shake PrePack – Oakland Kush Mints (H)
[$20] 14g PrePack – Brrr Berry Minis (IH)
[$20] 14g PrePack – Super Silver Haze (SH)
[$80] 14g PrePack – Da Funk
[$80] 14g PrePack – Gush Mints x Black Cherry Punch
[$80] 14g PrePack – Melted Strawberries
New Flower : Division
Da Funk [Platinum] Bonfire Farms
Melted Strawberries [Platinum] Bonfire Farms
[$80] 14g PrePack – Da Funk
[$80] 14g Prepack – Grape Diamonds x BCP