Hey Deanz Greenz fam! Fall is in full swing, and we're bringing you a harvest of new goodies. Check out what's blooming in-store this week:
New Flower Strains: GMO, Butterfingerz, and Point Break from Bonfire Farms, Champagne Showers from Urban Canna, Velvet Glove from Herbal Dynamics, and more!
Edibles: Indulge your taste buds with restocks of grön chocolates and Magic Number Cannabis Infused Drinks.
Carts: Experience the full restock of White Label Extracts cartridges, featuring Live Resin and Cured Resin varieties.
Prerolls: Try our new Lil Rippers 2 packs of 1g Infused PreRolls. We've also restocked Unbranded high-quality hand-rolled blunts.
Dabs: Get ready for a dab-tastic time with a White Label Extracts restock, featuring all Honeycomb – a versatile material perfect for crumbling or dabbing.
New Glass and Accessories: Elevate your experience with our latest glassware and accessories.
Higher Cultures Vendor Day: Join us for a special day with Higher Cultures. Don't miss out on exclusive deals and a chance to explore their fantastic products.
Important Update: Starting Oct 1st, our Cartridge exchanges will be for a 1-week period, down from the extended 2-week courtesy during the pandemic. We appreciate your understanding.
Come on down to Deanz Greenz and discover these exciting additions. Your week just got a whole lot greener! 🍃
Vendor Days Ahead!
Get some face time with the dopest cannabis brands in Oregon! Save 30% OFF these vendors while they are in store, and dont forget to score some free swag!
Higher Cultures :
Foster : Thursday the 28th 9AM-11AM
Division : Friday the 29th 9AM-11AM
Sandy : Saturday the 30th 9AM-11AM
VIVA THCV :
Foster : Thursday October 5th 7PM-9PM
Division : Thursday October 12th 7PM-9PM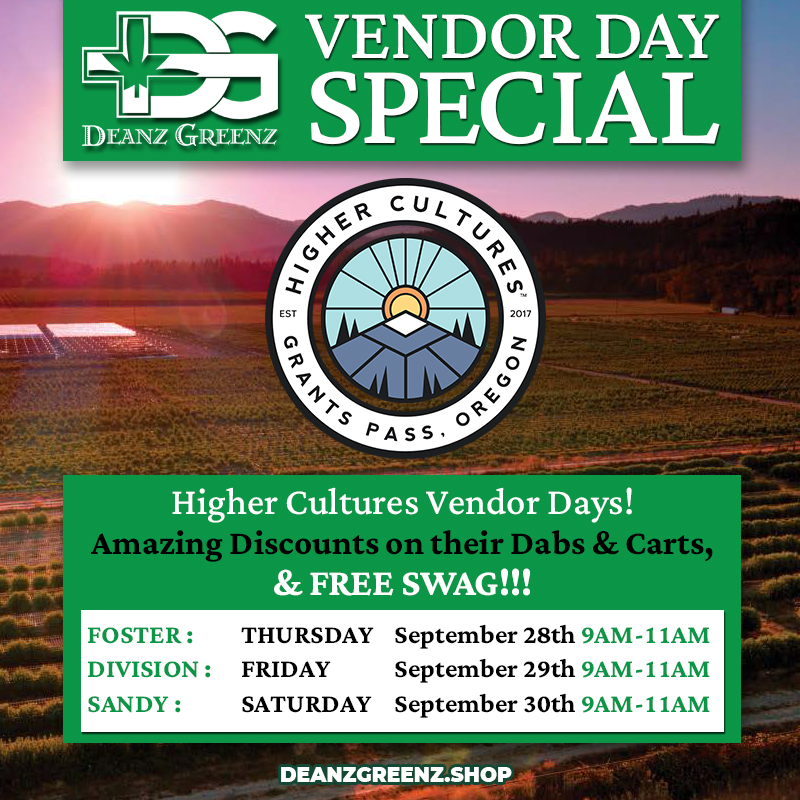 New Products and Restocks
(Stock may vary by location please check your shops menu)
Edibles :
[$17] Magic Number – Mandarin Lime Soda 100mg
[$17] Magic Number – Berry Seltzer 100mg
[$20] Magic Number – Ginger Beer 100mg
[$17] Magic Number – Cherry Vanilla Soda 100mg
[$17] Magic Number – Classic Cola Soda 100mg
[$17] Magic Drinks- Sasparilla Soda 100mg
[$12] Gron 100mg – THC Dark Chocolate – Indica
[$12] Gron 100mg – THC Milk Chocolate Sativa
[$20] Gron 100mg – 1:1:1 Dark Chocolate Vanilla Sea Salt
Carts :
[$30] White Label – Old Family Purps Cured Resin Cartridge
[$40] White Label – Pineapple Passion Live Resin 1g Cartridge
[$30] White Label – Sour Guava Gelato Cured Resin 1g Cartridge
[$40] White Label – Caribbean Breeze Live Resin 1g Cartridge
[$30] White Label – Headband Larry Cured Resin Cartridge
[$34] White Label – Banana Thizzlez Cured Resin 1g Cartridge
[$40] White Label – Strawberries & Cream Live Resin 1g Cartridge
[$40] White Label – Zkittles x Blueberry Syrup Live Resin 1g Cartridge
[$34] White Label – Zoinks Cured Resin 1g Cartridge
PreRolls :
[$12] Lil Rippers – Wedding Crasher Two 1g Infused Prerolls
[$12] Lil Rippers – Blackberry Two 1g Infused Prerolls
[$12] Lil Rippers – Peach Two 1g Infused Prerolls
[$12] Lil Rippers – Grapefruit Two 1g Infused Prerolls
[$2] Oregon Roots – Cherry OG .5g Preroll
[$2] Oregon Roots – Obama Kush .5g Preroll
[$6] Oregon Roots – Blue Magoo 1g PreRoll
[$6] Oregon Roots – Bettie Page 1g PreRoll
[$6] Oregon Roots – Cherry OG 1g PreRoll
[$2] Springwater – Pink Rntz 1g Preroll
[$2] Springwater – Strawberry Trainwreck 1g Preroll
[$2] Springwater – Lemon Apricot 1g Preroll
[$2] Springwater – S'mores 1g Preroll
[$2] Springwater – Kaya 1g Preroll
[$2] Springwater – Frank's Cookies 1g Preroll
[$30] Unbranded – Grape Gas 2g Hand Rolled Blunt
[$30] Unbranded – Rainbow Belts 2g Hand Rolled Blunt
Dabs :
[$21] White Label – White Peach Bellini x Goofiez Honeycomb
[$18] White Label – Noxious Honeycomb
[$18] White Label – Fruit N Fuel Honeycomb
[$18] White Label – Caution Honeycomb
New Flower : Sandy
Bonfire GMO [Platinum] Bonfire Farms
Bonfire Point Break [Platinum] Bonfire Farms
Butterfingerz [Platinum] Bonfire Farms
Champagne Showers [Diamond] Urban Canna
Cosmic Terps [Platinum] Mother Magnolia Medicinals
Forum GSC [Platinum] Oregon Roots
Grease Cookies [Platinum] Mother Magnolia Medicinals
Mint Mango [Platinum] Mother Magnolia Medicinals
Velvet Glove [Diamond] Herbal Dynamics
[$80] 14g Prepack – Butterfingerz
[$80] 14g Prepack – GG4 #2
[$80] 14g PrePack – Grape Diamonds x Black Cherry Punch
[$80] 14g Prepack – Point Break
New Flower : Foster
Bonfire GMO [Platinum] Bonfire Farms
Butterfingerz [Platinum] Bonfire Farms
Champagne Showers [Diamond] Urban Canna
Cosmic Terps [Platinum] Mother Magnolia Medicinals
Forum GSC [Platinum] Oregon Roots
Grease Cookies [Platinum] Mother Magnolia Medicinals
Mint Mango [Platinum] Mother Magnolia Medicinals
The Juice #4 [Platinum] PDX ORGANICS
Velvet Glove [Diamond] Herbal Dynamics
[$12.50] 14g PrePack – Blue Magoo
[$12.50] 14g PrePack – LSD Jager (IH)
[$12.50] 14g PrePack – Purple Punch (IH)
[$20] 14g PrePack – Brrr Berry Minis (IH)
[$20] 14g PrePack – GMO
[$30] 14g PrePack – Ghost Vapor (H)
[$40] 14g PrePack – Jet Fuel (H)
[$80] 14g Prepack – Butterfingerz
[$80] 14g Prepack – GG4 #2
[$80] 14g PrePack – GMO
[$80] 14g PrePack – Grape Diamonds x Black Cherry Punch
[$80] 14g Prepack – Point Break
New Flower : Division
Bonfire GMO [Platinum] Bonfire Farms
Bonfire Point Break [Platinum] Bonfire Farms
Butterfingerz [Platinum] Bonfire Farms
[$80] 14g PrePack – GMO
[$80] 14g Prepack – Grape Diamonds x BCP
[$80] 14g Prepack – Point Break