Yo, buds! 🌿 It's time to dive into the DG Mail, and we've got some groovy new stuff headed
your way! Get ready to see what's cookin' this week at Deanz Greenz:
🌟 Deanz Greenz is lighting up with some fresh flower varieties: Dirty Bananas, Pink Certz,
Oreoz, and more! And guess what? Those 28g Shake Prepacks are back in action!
But wait, there's more sweetness in the pot: Dabs, concentrates, cartridges, and a whole bunch
of other goodies are in stock, just waiting for you. And if you've been missing Sessions Dabs
and Tree Honey Waxes, guess what? They're back too! 🌿
Don't forget to mark your calendars for Vendor Days – we've got some exciting events with your
favorite brands, and exclusive deals are in the works!
That's the lowdown for this week, my friends. Swing by any of our three locations and give a
shout of "Yeah, buddy!" to top-notch cannabis. We'll catch you at Deanz Greenz! 🍃
Vendor Days Ahead!
Get some face time with the dopest cannabis brands in Oregon!
Save 30% OFF these vendors while they are in store, and dont forget to score some free swag!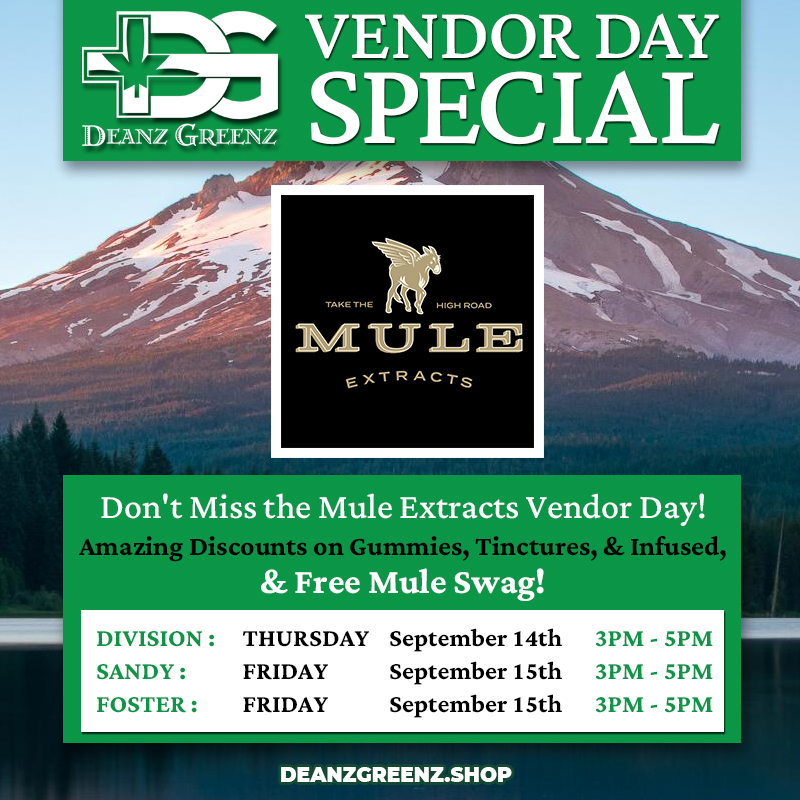 Mule Extracts :
Division : Thursday the 14th 3PM-5PM
Foster : Friday the 15th 3PM-5PM
Sandy : Friday the 15th 3PM-5PM
Higher Cultures :
Foster : Thursday the 28th 9AM-11AM
Division : Friday the 29th 9AM-11AM
Sandy : Saturday the 30th 9AM-11AM
VIVA THCV :
Foster : Thursday October 5th 7PM-9PM
Division : Thursday October 12th 7PM-9PM
New Products and Restocks
(Stock may vary by location please check your shops menu)
Edibles :
[$10] Legends – Dominos Chocolate Cubes 10pk – OG Kush
[$10] Legends – Dominos Chocolate Cubes 10pk – Runtz Cookies 'n Cream
[$10] Legends – Dominos Chocolate Cubes 10pk – Sour Tangie
[$26] Herban Tribe 100mg – Orange Juice
[$26] Herban Tribe 100mg – POG
[$26] Herban Tribe 100mg – Sour Diesel Lemonade
[$26] Herban Tribe 100mg – Strawberry Lemonade
[$26] Herban Tribe- Grape Juice
Carts :
[$17] Boujee Blendz – Blueberry 1g Flavored Liquid Diamond Cartridge
[$17] Boujee Blendz – Grape 1g Flavored Liquid Diamond Cartridge
[$17] Boujee Blendz – Green Apple 1g Flavored Liquid Diamond Cartridge
[$17] Boujee Blendz – Tutti Frutti 1g Flavored Liquid Diamond Cartridge
[$20] Disco Dabs – 00 OG Live Resin Blend Cartridge
[$20] Disco Dabs – Blueberry Waltz Live Resin Blend Cartridge
[$20] Disco Dabs – Frosted Cake Live Resin Blend Cartridge
[$20] Disco Dabs – Jack Smack Live Resin Blend Cartridge
[$20] Disco Dabs – Juice Box Live Resin Blend Cartridge
[$20] Disco Dabs – Stardawg 91 Live Resin Blend Cartridge
PreRolls :
[$17] Sunday Vibes – Donnie Burger .5g 10pk Prerolls
[$17] Sunday Vibes – Durban Mintz .5g 10pk Prerolls
[$17] Sunday Vibes – Garlic Breath .5g 10pk Prerolls
[$17] Sunday Vibes – Lemon Banana Sherbet .5g 10pk Prerolls
[$17] Sunday Vibes – Roasted Garlic Margy .5g 10pk Prerolls
[$17] Sunday Vibes – Wicked .5g 10pk Prerolls
[$17] Sunday Vibes – Wonder Dawg .5g 10pk Prerolls
[$24] Bassline Duets – Bonkers #15 & Chemchi #5 Indica 6pk .5g Infused
Dabs :
[$12] Sessions – Apple Fritter Cured Resin
[$12] Sessions – Biscotti Pancakes Cured Resin
[$12] Sessions – Blue Papaya Cured Resin
[$12] Sessions – Cookies N Cream Cured Resin
[$12] Sessions – Gushin Jealousy Cured Resin
[$12] Sessions – Over the Moon Cured Resin
[$12] Sessions – Pondering The Orb Cured Resin
[$12] Sessions – Rapper's Delight Cured Resin
[$12] Sessions – Summer Glow Cured Resin
[$12] Sessions – Vanilla Mendo Cured Resin
[$12] Sessions – Whiskey Throttle Cured Resin
[$12] Sessions – Widow Walker Cured Resin
[$4] Claywolf – Blurple Sno Piercer Wax
[$4] Claywolf – Sour Lemon Rhino Wax
[$4] Tree Honey – Blurple Sno Piercer
New Flower : Sandy
Dirty Bananas [Diamond] Urban Canna
Lemon Tree X Zkittlez [Gold] Ripped City Gardens
[$12.50] 28g PrePack – Dough Goat
New Flower : Foster
Dirty Bananas [Diamond] Urban Canna
[$12.50] 14g PrePack – Flyin' Hawaiian
[$20] 14g PrePack – Black Runtz
[$30] 14g PrePack – Daily Grape #9
[$20] 14g PrePack – GMO
New Flower : Division
Pink Certz [Platinum] Bonfire Farms
Oreoz [Platinum] Bonfire Farms
[$12.50] 14g Prepack – Chocolate Hashberry
[$12.50] 28g Shake Prepack – Jeepers OG
[$40] 14g Prepack – Slurricane
[$80] 14g PrePack – Phat Gary
[$80] 14g PrePack – Oreoz
[$80] 14g PrePack – Sweet Spot