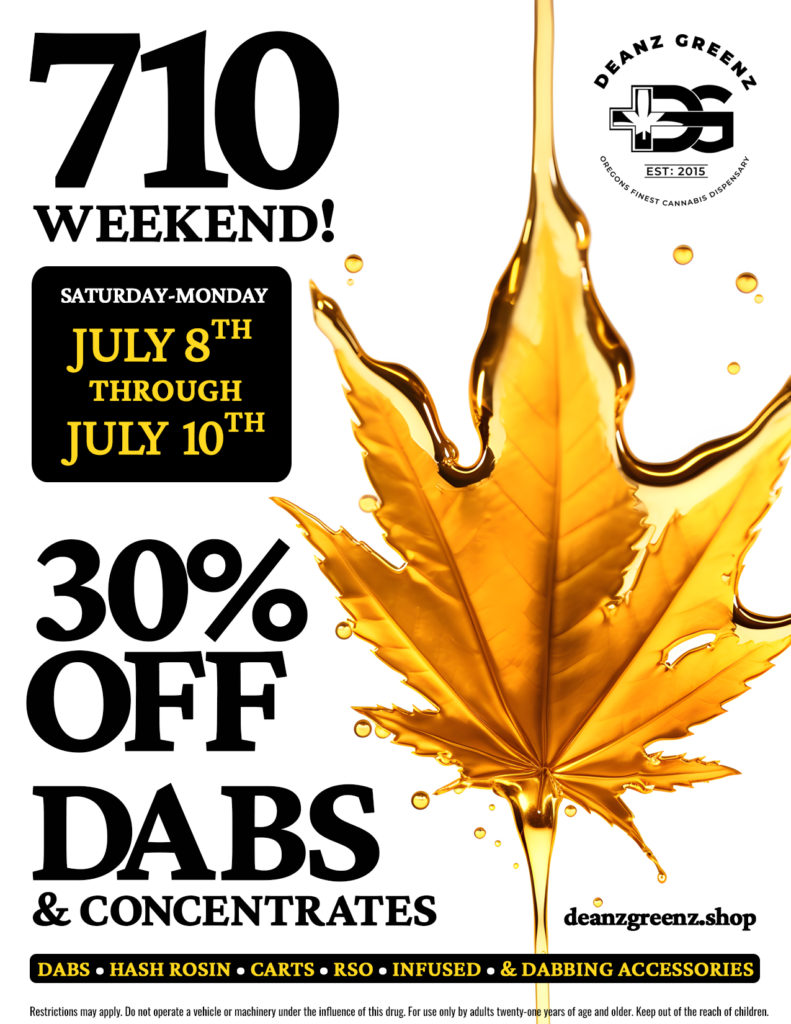 Are you ready to elevate your cannabis experience to the next level? Look no further than Deanz Greenz, Portland's premier cannabis dispensary. We are thrilled to invite you to celebrate 710 Weekend with us from July 8th to July 10th. Get ready to indulge in the world of concentrates, as we offer an incredible 30% discount on all Dabs, including hash rosin, cartridges, RSO, infused prerolls, and dabbing accessories. This is an opportunity you don't want to miss, so mark your calendars and get ready to experience the ultimate concentrate extravaganza!
At Deanz Greenz, we understand that cannabis enthusiasts are always seeking new and exciting ways to enhance their consumption experience. That's why we're putting the spotlight on concentrates during 710 Weekend. Whether you're a seasoned concentrate connoisseur or new to the world of dabs, this event is the perfect opportunity to explore the vast range of concentrates we have to offer.
Live Resin: Prepare to indulge in the pinnacle of cannabis extraction techniques with our exceptional Live Resin products. Known for their vibrant flavors and potent effects, Live Resin concentrates are made from freshly harvested cannabis plants that are immediately frozen, preserving the plant's natural terpenes and cannabinoids. At Deanz Greenz, we take pride in offering a diverse selection of Live Resin options for you to explore. During 710 Weekend, you can enjoy a fantastic 30% discount on all Live Resin products, allowing you to experience the full spectrum of flavors and benefits that this exquisite concentrate has to offer.
Shatter: For the concentrate enthusiasts seeking a visually stunning and potent experience, our collection of Shatter is not to be missed. Shatter is a translucent concentrate that breaks into brittle pieces, making it easy to handle and enjoy. With its high THC content and clean, smooth finish, Shatter is favored by many cannabis enthusiasts. During 710 Weekend, you can take advantage of our exclusive 30% discount on all Shatter products, allowing you to explore a wide range of strains and flavors while saving big.
Kief: Unlock the essence of cannabis with our premium Kief products. Kief, which consists of the resinous trichomes found on the surface of cannabis flowers, is rich in cannabinoids and provides an intense and flavorful experience. At Deanz Greenz, we carefully curate our Kief collection to ensure exceptional quality and potency. During 710 Weekend, you can enjoy a fantastic 30% discount on all Kief products, making it the perfect opportunity to sprinkle this potent powder on your favorite flower or explore creative ways to incorporate it into your cannabis rituals.
Temple Balls: Step into the world of traditional cannabis concentrates with our exquisite Temple Balls. These handcrafted delights are made by rolling the finest resin-rich cannabis into dense balls, resulting in a concentrate with deep and complex flavors. Temple Balls offer a unique and artisanal experience for cannabis connoisseurs seeking something truly special. During 710 Weekend, you can savor the artistry of Temple Balls while enjoying a remarkable 30% discount on all products. Don't miss this chance to elevate your cannabis experience and appreciate the time-honored craftsmanship behind these extraordinary concentrates.
Hash Rosin: Indulge in the purest form of cannabis concentrates with our premium hash rosin. Made from high-quality flower, our hash rosin is meticulously crafted to preserve the plant's natural flavors and potent effects. With the 30% discount, now is the ideal time to try some of our finest hash rosin varieties and experience the pinnacle of concentrate craftsmanship.
Cartridges: For those who prefer a convenient and discreet way to enjoy cannabis concentrates, our selection of cartridges is sure to impress. From flavorful terpene profiles to potent THC content, our cartridges offer a convenient and hassle-free way to elevate your cannabis experience. Take advantage of the 30% discount to stock up on your favorite cartridges or explore new ones that catch your attention.
RSO (Rick Simpson Oil): If you're looking for a highly concentrated form of cannabis oil, our RSO selection is perfect for you. Known for its potential medicinal benefits, RSO is packed with cannabinoids that may offer relief and relaxation. During 710 Weekend, you can grab RSO products at an incredible discount, making it an excellent time to explore the therapeutic potential of this concentrated oil.
Infused PreRolls: For those who enjoy the convenience of pre-rolls, we've taken it a step further by infusing them with premium concentrates. Our infused pre-rolls deliver an intensified experience, combining the best of both worlds: the smoothness of a joint and the potency of concentrates. Treat yourself to these elevated pre-rolls at an unbeatable price during 710 Weekend.
Dabbing Accessories: To enhance your concentrate experience, we offer a wide range of dabbing accessories that cater to every need. From dab rigs and vaporizers to dab tools and storage solutions, we have everything you require to complete your concentrate setup. And yes, you guessed it right—we're offering a generous 30% discount on all dabbing accessories during the 710 Weekend sale!
Conclusion: Don't miss out on the ultimate celebration of concentrates during Deanz Greenz's 710 Weekend! From July 8th to July 10th, immerse yourself in the world of dabs with an incredible 30% discount on all Dabs, including hash rosin, cartridges, RSO, infused prerolls, and dabbing accessories. Visit our dispensary in Portland, Oregon, and let our knowledgeable staff guide you through the wide variety of concentrates we have available. Get ready to elevate your cannabis experience and make the most of this limited-time offer. We can't wait to see you at Deanz Greenz!