Hey Deanz Greenz fam! It's time to kick off another week with some fresh green goodness. There are a TON of restocks to peruse! Check out what's in store for you:
New Flower Strains: Star Dawg, Wedding Pie, and more!
Edibles: We've restocked some of your favorites, including grön edibles, Drops gummies, Mule gummies, Magic Number drinks, and Herban Tribe drinks.
Carts: Dive into the world of vaping with new 1g Disposable Vapes from HIFI Farms, priced at just $20! We've also got restocks from Higher Cultures, Buddies, and Boujee Blendz.
Prerolls: Ready for a puff? We've restocked Mule Extracts infused prerolls.
Dabs: Get ready to dab in style with restocks from Rogue River Family Farms, Higher Cultures, Disco Dabs, Afterglow, and Sessions.
New Gear Alert: Don't miss out on our new discreet auto-draw cartridge batteries, including the Silo Pro from Sutra and the Ziva from YoCan.
Come on down to Deanz Greenz and explore these new additions. Your week just got a whole lot greener! 🍃
Vendor Days Ahead!
Get some face time with the dopest cannabis brands in Oregon!
Save 30% OFF these vendors while they are in store, and dont forget to score some free swag!
Higher Cultures :
Foster : Thursday the 28th 9AM-11AM
Division : Friday the 29th 9AM-11AM
Sandy : Saturday the 30th 9AM-11AM
VIVA THCV :
Foster : Thursday October 5th 7PM-9PM
Division : Thursday October 12th 7PM-9PM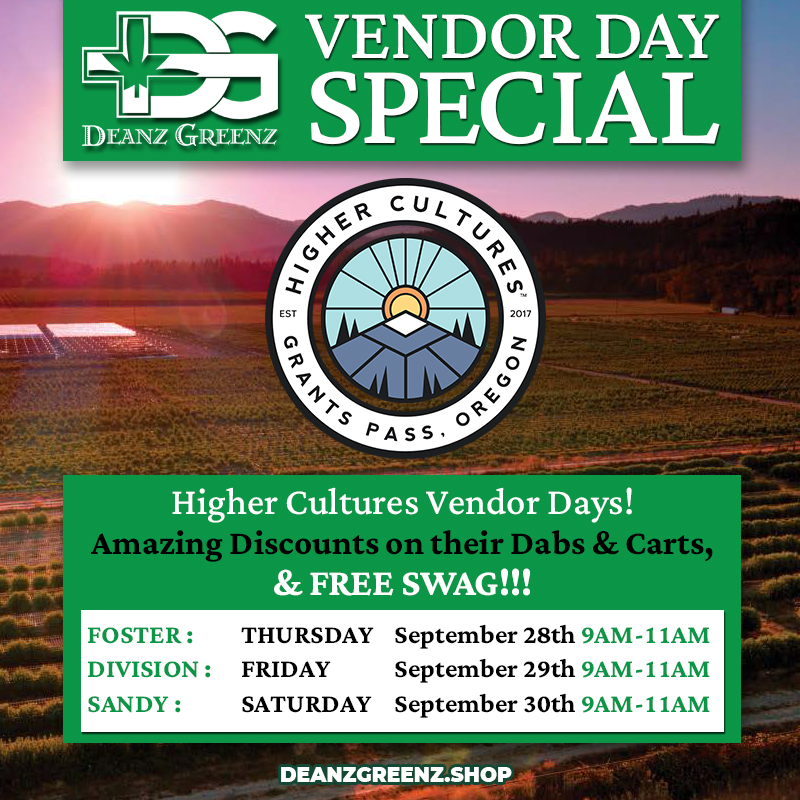 New Products and Restocks
(Stock may vary by location please check your shops menu)
Edibles :
[$6] Gron 100mg – Passion Orange Guava Mega Pearl
[$6] Gron – 100mg Sour Apple Mega Pearl
[$6] Gron 100mg – Passion Orange Guava Mega Pearl
[$6] Gron Mega Pearl – Cherry Limeade
[$6] Gron Mega Pearl – Lemonade
[$6] Gron Mega Pearl – Strawberry Habanero
[$6] Gron Mega Pearl – Tropical Twist
[$9] Gron 100mg – 1:1 Blackberry Mega Pearl – CBN/THC
[$9] Gron 100mg – 1:1 Blue Razzleberry Mega Pearl – CBG/THC
[$9] Gron 100mg – Dark Chocolate Mini Bar
[$9] Gron 100mg – Milk Chocolate Mini Bar
[$11] Gron – 1:1 Daytime Sativa Milk Chocolate Mini Bar
[$11] Gron – 1:1 Sleepy Indica Dark Chocolate Mini Bar
[$11] Gron 100mg – Milk Chocolate 1:1 Mini Bar
[$11] Gron 100mg – Pips Milk Chocolate
[$11] Mule 100mg – Raspberry Lemonade 1:1 CBG Kicker
[$12] Gron 100mg – Raspberry Lemonade Pearls
[$12] Gron 100mg – THC Dark Chocolate Bar
[$12] Gron 100mg – THC Milk Chocolate Bar
[$12] Gron 100mg – Watermelon Pearls
[$15] Gron 100mg – 1:1 Dark Chocolate Peanut Butter Pips
[$15] Gron 100mg – 1:1 Dark Chocolate Peanut Butter Pips
[$16] Gron 100mg – 4:1 Pomegranate Pearls
[$16] Gron 100mg – Peach Prosecco 1:1 Pearls
[$18] Gron – Pips Caramel 3:1 CBG
[$18] Gron – Pips Dark Chocolate 1:1:1 CBN
[$18] Gron 100mg – 1:1 Dark Chocolate
[$18] Gron 100mg – 1:1 Milk Chocolate Peanut Butter Pretzel Bar
[$20] Gron – 1:1:1 CBN Vanilla Bean Sea Salt Dark Chocolate Bar 100mg
[$20] Gron 100mg – 3:1 Blueberry Lemonade Pearls
[$20] Gron 100mg – 3:1 CBG Milk Chocolate w/ Sea Salt – Daytime Sativa
[$20] Gron 100mg – Blackberry Lemonade 1:1:1 CBN Pearls
[$8] Drops – Cherry Single 100mg
[$8] Drops – Lemon Single 100mg
[$8] Drops – Lime Single 100mg
[$8] Drops – Orange Single 100mg
[$8] Drops – Watermelon Single 100mg
[$16] Drops – 20pk Cherry 100mg
[$16] Drops – 20pk Lemon 100mg
[$16] Drops – 20pk Lime 100mg
[$16] Drops – 20pk Orange 100mg
[$16] Drops – 20pk Watermelon 100mg
[$16] Drops – Blackberry 2:1 CBD 20pc 100mg
[$16] Drops – Blueberry 4:1 CBD 20pc 100mg
[$16] Drops – Raspberry 1:2 CBD 20pc 100mg
[$16] Drops – Strawberry 1:4 CBD 20pc 100mg
[$6] Mule 100mg – Grape Kicker
[$6] Mule 100mg – Kiwi Kicker
[$6] Mule 100mg – Peachy Kicker
[$6] Mule 100mg – Raspberry Pomegranate Kicker
[$6] Mule 100mg – Twisted Citrus Kicker
[$15] Magic Number – Berry Seltzer 100mg
[$15] Magic Number – Cherry Vanilla Soda 100mg
[$15] Magic Number – Classic Cola Soda 100mg
[$15] Magic Number – Mandarin Lime Soda 100mg
[$15] Magic Number – Sasparilla 100mg
[$17] Magic Number – Ginger Beer
[$17] Magic Number – Peach Tea 100mg
[$26] Herban Tribe – Grape Juice 100mg
[$26] Herban Tribe 100mg – Orange Juice
[$26] Herban Tribe 100mg – POG
[$26] Herban Tribe 100mg – Sour Diesel Lemonade
[$26] Herban Tribe 100mg – Strawberry Lemonade
Carts :
[$36] Beehive Extracts – Black Diamond 1g Cured Resin Cartridge
[$36] Beehive Extracts – Cherry Jungle 1g Cured Resin Cartridge
[$36] Buddies – Gary Payton Distillate 1g Cartridge
[$36] Buddies – Banana Punch Distillate Cartridge
[$36] Buddies – DJ Shortberry x Dosi Punch LR/D Cartridge
[$36] Buddies – Durban Poison LR/D Cartridge
[$36] Buddies – Grape Mountain Live Distillate Cartridge
[$36] Buddies – Sour Amnesia Haze Distillate 1g Cartridge
[$17] Boujee Blendz – Blueberry 1g Flavored Liquid Diamond Cartridge
[$17] Boujee Blendz – Grape 1g Flavored Liquid Diamond Cartridge
[$17] Boujee Blendz – Mango 1g Flavored Liquid Diamond Cartridge
[$17] Boujee Blendz – Pineapple 1g Flavored Liquid Diamond Cartridge
[$17] Boujee Blendz – Tutti Frutti 1g Flavored Liquid Diamond Cartridge
[$29] NW Kind – Cap Junky Cured Resin Cart
[$29] NW Kind – Super Silver Haze Cured Resin Cart
[$36] NW Kind – Blueberry Muffin #4 Live Resin Cart
[$36] NW Kind – Platinum Zkittles Live Resin Cart
[$29] NW Kind – Green Crack Cured Resin Cart
[$36] NW Kind – GMO Live Resin Cart
[$20] Disco Dabs – 00 OG Live Resin Blend Cartridge
[$20] Disco Dabs – Animal Treat Live Resin Blend Cartridge
[$20] Disco Dabs – Frosted Cake Live Resin Blend Cartridge
[$20] Disco Dabs – Jack Smack Live Resin Blend Cartridge
[$20] Disco Dabs – Juice Box Live Resin Blend Cartridge
[$20] Disco Dabs – Stardawg 91 Live Resin Blend Cartridge
[$44] Higher Cultures – Bushido Live Resin 1g Cartridge
[$44] Higher Cultures – Cherry Koff Dropz Live Resin 1g Cartridge
[$44] Higher Cultures – Super Silver Chem Live Resin 1g Cartridge
[$48] Higher Cultures – Ambrosia HTE 1g Cartridge
[$48] Higher Cultures – Benny Blonco HTE 1g Cartridge
[$48] Higher Cultures – Cherry Valley Cake HTE 1g Cartridge
[$48] Higher Cultures – High Dive HTE 1g Cartridge
[$48] Higher Cultures – Nudder Budder HTE 1g Cartridge
[$48] Higher Cultures – Sherbait HTE 1g Cartridge
[$48] Viva – Tropicana Varin THCV 1g Cartridge
[$60] Higher Cultures – Banana Pineapple Live Rosin 1g Cartridge
[$60] Higher Cultures – Donny Burger Live Rosin 1g Cartridge
[$60] Higher Cultures – Ginger Tea Live Rosin 1g Cartridge
[$60] Higher Cultures – Larry Burger Live Rosin 1g Cartridge
[$60] Higher Cultures – Papaya Punch Live Rosin Cartridge
[$24] Altered Alchemy – Georgia Pie Live Resin Blend 1g Cartridge
[$24] Altered Alchemy – Sundae Driver Live Resin Blend 1g Cartridge
[$24] Verdant Leaf – Candy Fruit Live Rosin/Cured Resin Blend Cartridge
[$24] Verdant Leaf – Truffles & Cream Live Rosin/Cured Resin Blend Cartr…
[$42] WVA – G-MAC 1g LCR Cart
[$42] WVA – Granamals 1g LCR Cart
[$42] WVA – Runtz 1g LCR Cart
[$42] WVA – Sundae Driver 1g LCR Cart
[$20] Hifi Farms – Crater Lake Cured Resin All In 1 Disposable
[$20] Hifi Farms – Slurricane Runtz Cured Resin All in 1 Disposable
[$20] Hifi Farms – Lemon Cherry Gelato Cured Resin All in 1 Disposable
[$20] Hifi Farms – Sour Tangie Cured Resin All in 1 Disposable
[$20] Hifi Farms – Pineapple Dream Cured Resin All In 1 Disposable
PreRolls :
[$6] Mule Extracts – 1g Fortissimo x Hindu Dakini Infused Preroll
[$6] Mule Extracts – 1g Muel Fuel x Texas Butter Infused Preroll
[$6] Mule Extracts – 1g Sour Banana Sherbert x Haze Train Infused Preroll
[$6] Mule Extracts – 1g Burnie Mac x OA Mac Infused Preroll
Dabs :
[$38] Rogue River – Honey Buns Live Rosin
[$38] Rogue River – Papaya Live Rosin
[$38] Rogue River – Candied Lemons Live Rosin
[$38] Rogue River – Lip Smacker Live Rosin
[$38] Rogue River – Modified Grape Live Rosin
[$12] Afterglow – Dawg Biscuts Shatter
[$15] Afterglow – Candy Dawg Sugar Wax
[$15] Afterglow – Lemon Fire MAC Sugar Wax
[$15] Afterglow – Warrior W**kie Sugar Wax
[$12] Afterglow – GG#4 Shatter
[$12] Afterglow – Turkie Shatter
[$12] Afterglow – The Soap Shatter
[$15] Afterglow – Orange Mac Sugar Wax
[$4] Claywolf – Sour Lemon Rhino Wax
[$4] Claywolf – Blurple Sno Piercer Wax
[$12] Disco Dabs – Bubba Berry Shatter
[$12] Disco Dabs – Cake Mix Shatter
[$17] Disco Dabs – Bonkers Sunset Live Resin
[$12] Sessions – Pondering The Orb Cured Resin
[$12] Sessions – Cookies N Cream Cured Resin
[$12] Sessions – Biscotti Pancakes Cured Resin
[$12] Sessions – Gushin Jealousy Cured Resin
[$36] Higher Cultures – Agent Orange Live Resin Batter
[$36] Higher Cultures – Strawberry Gary Live Resin Batter
[$48] Higher Cultures – Nudder Budder Live Rosin Batter
[$36] Higher Cultures – Lemon Pineapple Live Resin Sugar
[$36] Higher Cultures – Strawberry Gary Live Resin Batter
[$36] Higher Cultures – Agent Orange Live Resin Batter
[$39] Higher Cultures – Garlicot Bubblegum Live Resin Sauce
[$48] Higher Cultures – Nudder Budder Live Rosin Batter
[$48] Higher Cultures – Hazelnut Cream Live Rosin Batter
[$48] Higher Cultures – Cereal Milk Live Rosin Batter
[$48] Higher Cultures – Galactic Runtz Canary Diamonds
[$48] Higher Cultures – Hazelnut Cream Live Rosin Batter
[$36] Higher Cultures – GMO Cookies Live Resin Sugar
[$48] Higher Cultures – Unicorn Piss Canary Diamonds
[$36] Higher Cultures – Lemon Pineapple Live Resin Sugar
[$48] Higher Cultures – Sour Tangie Canary Diamonds
New Flower : Sandy
Star Dawg [Platinum] West Coast Organics
Wedding Pie [Platinum] Dank Bros
Pancakes [Gold] One Family Farms
Tuscan Gelato [Gold] One Family Farms
Tomahawk [Gold] Oregon Roots
Dosi Sherbet [Gold] Oregon Roots
Dessert Runtz [Gold] TrueCare Farms
Sundae Driver [Gold] TrueCare Farms
Papaya Punch [Gold] TrueCare Farms
Purple Punch [Gold ] TrueCare Farms
New Flower : Foster
Star Dawg [Platinum] West Coast Organics
Wedding Pie [Platinum] Dank Bros
Tomahawk [Gold] Oregon Roots
Dosi Sherbet [Gold] Oregon Roots
Dessert Runtz [Gold] TrueCare Farms
Purple Punch [Gold ] TrueCare Farms
Sundae Driver [Gold] TrueCare Farms
Pancakes [Gold] One Family Farms
Tuscan Gelato [Gold] One Family Farms
[$12.50] 28g Shake PrePack – Nonsense (IH)
[$12.50] 28g Shake PrePack – Lee Ann Womack
[$12.50] 28g Shake PrePack – Cherry Limeade #10 (H)
[$12.50] 28g Shake PrePack – Dough Goat
[$12.50] 14g PrePack – Gush Mintz (IH)
[$20] 14g Prepack – Rozé
[$20] 14g PrePack – Brr Berry Minis
[$20] 14g PrePack – Sundae Driver
New Flower : Division
Pancakes [Gold] One Family Farms
Tuscan Gelato [Gold] One Family Farms